Thursday, September 22, 2005
It's Quiz Night!
By all accounts I belong to...



I wanted to be a bad girl but it turns out that I am a...


You Are a Normal Girl

You are 40% Good and 60% Bad
Sure you've pulled some bad girl stunts in your past.
But these days, you're (mostly) a good girl.



And as far as boots go, by all accounts I am...


You Are Bold Red Boots

You like to put your most outrageous foot forward!



And who would have thought that I had an ambition in life to be...

posted by Maureen @ 7:44 pm


Tuesday, September 20, 2005
First, an apology...
It is official - I have absolutely no manners. My Mum would spank my bottom for being such an ill-mannered quine! With all the excitement (!) the last few weeks I forgot to say who my Secret Pal was. It turns out to be Ali, someone of whom I am very envious as she lives on a barge in North Englandshire. I always wanted to live on a boat when I was down in London but instead we stuck to a boring flat instead. She has been a great Secret Pal and has spoiled me rotten. Without her I wouldn't have discovered Hip Knits silk, wouldn't have made another Clapotis (and OSW) with it, wouldn't have taken pictures and sent them to Kerrie at Hip Knits and wouldn't be having MY Clapotis on display at the Knitting and Stitching show at Alexandra Palace as one of Kerrie's samples. How excited am I at the thought of 1000's of people seeing the scarf?! To me this is the equivalent of exhibiting a painting for the first time. So, thanks Ali for your part in the whole thing. Plus Wally looks to be a lovely cuddly puddycat but then I tend to think that about all cats - even lions and tigers!

So, what else has been happening? We had a wedding the other week which was absolutely fantastic. One of the best things about Scottish weddings are the plethora of kilts on display. For those who think it's just a man in a skirt then they are so so so wrong. Kilts are wonderfully sexy and until you've seen a bloke walk past you with the kilt swinging as they've got just enough bum to make the pleats swish and a fine pair of legs...just drooling at the thought of it. The wedding ceremony was short and sweet (how I like it) and the reception was really fun. Not only are Willie and Lindsey lovely but so are the group of mates that we know through them. It sounds so naff but you could really feel the affection in the room for the pair of them. The ceildh band were ace (samba rhythms for Stripping the Willow) and I even got Robert up for a St Bernard's Waltz - even if I did have to lead as he wouldn't turn round for the waltzing bit! Lot's on tacky 80's music and good Scottish singalong tunes later. An ace night.


Willie & Lindsey (10 Sept 2005)

Picking up the car from town on the Sunday caused a bit of a sharp intake of breath when we saw lots of smoke coming from the direction of our house but once we got nearer we discovered that it was the farm behind us. These are the guys that actually farm the land around us. Turns out the guy had been welding in the byre in the morning and a spark caught something. The building was full of old tyres, machinery, etc so that's why the smoke was so black. Not nice.


Davidson o'Mains

As far as knitting goes I completed a little cardi for Isla next door's 1st birthday. It is so cute. It's from Knitty and I used Rowan Handknit DK cotton in Shell and Slick. Even as I was knitting it I couldn't believe how cute it was. As you can see, the original model is a bit shy...


Shy model!

I persuaded them to turn around later. Isla looks much cuter in it to be honest and it has gone down very well with Mum as I'm the first one to make Isla something a bit more cool and trendy and not quite so old wifey traditional knitting pattern that's been around since I was a kid...!


Front view of Isla?!

Getting all excited about my trip to London next month. It'll be the first time I'll have been back since I left the place in 1991! Not only am I looking forward to the Knitting and Stitching Show but I can't wait to meet up with Mandy for a good catch-up on life and "what's been happening with you" that you can't really do with emails or phonecalls. We're staying with a friend on her's so that saves on accommodation costs (couldn't really afford the trip otherwise) so I have to take some rowies down for Pauline so she can remember exactly why she left Aberdeen! Probably going to meet up at the V&A as we both get into London early afternoon and Pauline will still be at work then. Their textile exhibitions should get us in the mood for the rest of the weekend. Can't wait.

So what else is up? I won't go into the Scottish Enterprise and their planned survey's for the land around us as that will just get me mad at the moment until we get a bit more of the full story. Knitting wise? I've started on the Christmas present production line. My first hot water bottle cover has just gone into production. I want to get hold of some Artesano Alpaca so I can do a a few pairs of bedsocks for a few folk. After struggling to regain momentum on the "I Do" shrug from Knitty with my alpaca instead I've ripped it back and instead I'm using it to make the following vest from the latest Vogue Knitting. I've converted the pattern to knit it in the round as I want to eliminate seams wherever possible. Now if I can figure out my short-row shaping for the shoulder seams and do a bit of grafting or a 3-needle bind-off then it'll be sorted. Let the challenges continue...


Vogue Knitting - Fall 2005
posted by Maureen @ 8:05 pm


Thursday, September 08, 2005
Offshore Europe 2005 - it's a bit busy!
My what excitement at the top of our road this week - it's the biennial Offshore Europe exhibition when loads and loads and loads of people pour into Aberdeen to make big money deals and get minging every night. They might try and say it's a bit more sophisticated than that but they would be telling big porkie pies! As you can see the protestors were out in force(!)...


Protest time!

And the one I always find most amusing is all these good cars turn up and then they have to go and use the field at the top of our road for the overflow parking. What a posh place we are! Rain would make it much more entertaining but unfortunately it has stayed dry so far this year. At least the farmer boy hasn't been able to spread dung a'wey this year (unlike in 2003) as he's still got loads of bales in the fields.


Overflow carparking

At least having OE05 on this year has meant that the local "Cooncel" has made a bit of effort in keeping the field tidy and bonny. Think they might have been a bit paranoid that the travellers would come back and after the state they left the place in I can't blame them. They complain of persecution but I did go up and take photos of the place after their exploits in March this year.

They took the gates off their hinges to get into the field in the first place.


"We don't break down gates - yeah, right!"

They left loads of rubbish all over the place.


"And we tidy up our mess..."

They broke down windbreak fences.


March and the mess

It's not as if they would have had to go far to put their rubbish to the dump - it's only 10 minutes along the road. True, they didn't cause us any hassle while they were here but the mess that was left behind was horrendous. You can see why the Council were a bit paranoid and protective of their overflow carpark field since then as this year's oil exhibition has been estimated to bring in almost 50,000 visitors from 110 different countries and probably be near the £20million mark as far as revenue to all the hotels, bars, restaurants and taxis, etc. You can guarantee that the taxi drivers will still be moaning - they're a pretty dour bunch. Our way of getting our own back on taxi drivers - if they moan about our track (after we've warned them to go slow and they still pelt down it at top speed) then they don't get a tip, if they're fine about it then they do. Petty but it keeps us happy!
posted by Maureen @ 5:10 pm


Wednesday, September 07, 2005
It's my life...
...and I can rollerblade while it's my period!

I spotted this meme when I was on one of my wee jaunts round the blogisphere adn thought it sounded interesting. What you had to do was to enter the following items into Google and see which images cropped up so here's my life in pictures!

My first car - a VW Polo, 1978 model in pale blue. Bought in Carlisle for £800 and then driven up to Scrabster by my Dad so we could catch the last ferry home to Stromness. I still have the visions of following Dad as he bounced along in my new wee car. Why did no-one think I was reliable enough to drive it up to Scrabster myself? Something to do with the fact that I was only 18 and had only had my licence for about 3 months at this stage perhaps?!


VW Polo (1978)

Where I was brought up - and first bounced into the world - Voy Farm, Sandwick, Orkney. This was really precise as I managed to find a picture of the farm. To the right of the big house (as you look at the picture) used to be the static caravan (a trailer for our North American cousins) where I spent the first 9 years of my life. It only took 4 years for my Dad to build our house (a whole 2 fields up the road from the farm) but then he is a builder after all! So I can truly say, hand on heart, that I am originally trailer trash - proud of that fact too actually. I had such a HUGE bedroom (!) - I think it was about 2 and a half foot wide.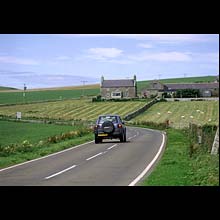 Voy, Sandwick

Where I live now - Aberdeen. Unfortunately I don't live in King's College at Aberdeen University but it is a rather fantastic building. This is the original University building which dates back over 500 years - until 1860 Aberdeen had 2 universities, England only had Cambridge and Oxford at this point (we had Edinburgh, Glasgow and St Andrews as well at this point). I never meant to spend this long in Aberdeen. I've been here since 1991 (I arrived with an ex-boyfriend, he left here years ago), went back to University, had loads of different jobs, swore I would never have anything to do with the offshore industry, am now working WITH the offshore industry...never say never!


King's College, Aberdeen

My favourite food - vanilla ice-cream with chocolate sauce. Perfect comfort food, treat food, just anytime you don't want to think about what's healthy for your body food but is instead healthy for the mind.


Yummy!

Favourite drink - hot chocolate. Mexican hot chocolate is the best. Perhaps I have a thing for chocolate - you think?!


Delish!

Favourite song - "Will You?" Hazel O'Connor from the film soundtrack to Breaking Glass. I was lucky enough to see Hazel perform the song at a small gig in London back in 1990 and it was fantastic. The only song that I know all the words to, extremely soppy but with punk sensibilities. The film is pretty cool too.


So soppy

Favourite smell - the sea, especially during or just after a storm. The power and the untameable beauty is one of the most fantastic things to watch ever. It does more for me than anything else in nature. I love it.


Power!

And finally - favourite shoes - Doc Martens. There are 2 pairs that mean the most to me. A burgundy pair from Vegetarian Shoes in Brighton - the only DM's that didn't give me blisters when I started to wear them. They're still going strong 16 years after I bought them (I look after my footwear). The other pair is my original DM's, bought in Edinburgh in 1987, which my pal Anna painted for me. They have lovely pictures of a standing stone in the moonlight on them. I can't wear them too often now as they've got quite a few holes in the leather but they are one pair of shoes that will never by thrown away due to their sentimental value - plus I'm waiting for the day when Anna's art comes back into her life in a big way and she finally becomes the famous artist she deserves to be. Then I can sell the boots for megabucks! DM's, thick woolly tights, hippie skirts - what a combo. What woudl my life be like if Cockburn Street hadn't become the centre of my shopping existence in my student days...


So comfy...
posted by Maureen @ 6:50 pm


About Me
Name: Maureen
Home:
About Me:
See my complete profile
Previous Post
Archives
1940's lacey jumper: 50%
Flicca: 60%
Ogee Lace Skirt: 10%
Wavy Scarf: 20%
Blackthorn: 55%
French Wraparound Gilet: 10%
Paton's Aran Cardi: 25%
Strawberry Hill: 15%