Wednesday, September 07, 2005
It's my life...
...and I can rollerblade while it's my period!

I spotted this meme when I was on one of my wee jaunts round the blogisphere adn thought it sounded interesting. What you had to do was to enter the following items into Google and see which images cropped up so here's my life in pictures!

My first car - a VW Polo, 1978 model in pale blue. Bought in Carlisle for £800 and then driven up to Scrabster by my Dad so we could catch the last ferry home to Stromness. I still have the visions of following Dad as he bounced along in my new wee car. Why did no-one think I was reliable enough to drive it up to Scrabster myself? Something to do with the fact that I was only 18 and had only had my licence for about 3 months at this stage perhaps?!


VW Polo (1978)

Where I was brought up - and first bounced into the world - Voy Farm, Sandwick, Orkney. This was really precise as I managed to find a picture of the farm. To the right of the big house (as you look at the picture) used to be the static caravan (a trailer for our North American cousins) where I spent the first 9 years of my life. It only took 4 years for my Dad to build our house (a whole 2 fields up the road from the farm) but then he is a builder after all! So I can truly say, hand on heart, that I am originally trailer trash - proud of that fact too actually. I had such a HUGE bedroom (!) - I think it was about 2 and a half foot wide.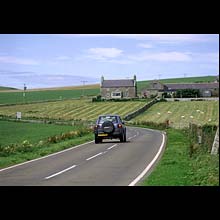 Voy, Sandwick

Where I live now - Aberdeen. Unfortunately I don't live in King's College at Aberdeen University but it is a rather fantastic building. This is the original University building which dates back over 500 years - until 1860 Aberdeen had 2 universities, England only had Cambridge and Oxford at this point (we had Edinburgh, Glasgow and St Andrews as well at this point). I never meant to spend this long in Aberdeen. I've been here since 1991 (I arrived with an ex-boyfriend, he left here years ago), went back to University, had loads of different jobs, swore I would never have anything to do with the offshore industry, am now working WITH the offshore industry...never say never!


King's College, Aberdeen

My favourite food - vanilla ice-cream with chocolate sauce. Perfect comfort food, treat food, just anytime you don't want to think about what's healthy for your body food but is instead healthy for the mind.


Yummy!

Favourite drink - hot chocolate. Mexican hot chocolate is the best. Perhaps I have a thing for chocolate - you think?!


Delish!

Favourite song - "Will You?" Hazel O'Connor from the film soundtrack to Breaking Glass. I was lucky enough to see Hazel perform the song at a small gig in London back in 1990 and it was fantastic. The only song that I know all the words to, extremely soppy but with punk sensibilities. The film is pretty cool too.


So soppy

Favourite smell - the sea, especially during or just after a storm. The power and the untameable beauty is one of the most fantastic things to watch ever. It does more for me than anything else in nature. I love it.


Power!

And finally - favourite shoes - Doc Martens. There are 2 pairs that mean the most to me. A burgundy pair from Vegetarian Shoes in Brighton - the only DM's that didn't give me blisters when I started to wear them. They're still going strong 16 years after I bought them (I look after my footwear). The other pair is my original DM's, bought in Edinburgh in 1987, which my pal Anna painted for me. They have lovely pictures of a standing stone in the moonlight on them. I can't wear them too often now as they've got quite a few holes in the leather but they are one pair of shoes that will never by thrown away due to their sentimental value - plus I'm waiting for the day when Anna's art comes back into her life in a big way and she finally becomes the famous artist she deserves to be. Then I can sell the boots for megabucks! DM's, thick woolly tights, hippie skirts - what a combo. What woudl my life be like if Cockburn Street hadn't become the centre of my shopping existence in my student days...


So comfy...
posted by Maureen @ 6:50 pm


About Me
Name: Maureen
Home:
About Me:
See my complete profile
Previous Post
Archives
1940's lacey jumper: 50%
Flicca: 60%
Ogee Lace Skirt: 10%
Wavy Scarf: 20%
Blackthorn: 55%
French Wraparound Gilet: 10%
Paton's Aran Cardi: 25%
Strawberry Hill: 15%