Thursday, July 21, 2005
One Skein Wonder
And last night I couldn't keep my hands off the Hip Knits silk I got from my Secret Pal any longer. It called out to me and said "make me into a One Skein Wonder" - so I did. And there's still loads of it left for a Clapotis. Perfect to go with my outfit for the couple of weddings I have in a couple of months. So pretty and so, so, so soft. Just lush!



OSW



OSW 2
posted by Maureen @ 5:58 pm


Tuesday, July 19, 2005
Other folk's babies
This is really a test to see if Blogger's photo hosting works but I'm sure Karen will be excited to see Echo on here when she was a but a little biddy baby. Especially cute as she fell asleep in my bag so I could have so easily gone home with her.




And of course Dennis has a new little baby called Casper. Here he is at only 8 weeks old - he's now about 12 weeks and twice the size. Still very cute and terrorising Uncle Vinnie something rotten.




Babies bleuch - kittens and puppies, aah...!
posted by Maureen @ 2:26 pm


Teva's finished!
I've finally finished something! It seems like ages since I actually finished a project. I am awfully chuffed with the Teva shrug. It's very pretty, very soft and very different! I think I might have to make another one in a different colour. I did spot some discontinued Kaffe Fasset Kid Classic out at the Wool Shed in a nice pink so I might get that if the price is right. We shall see.



Shrug 1



Shrug Variations

I've had a bit of garden frenzy because if I didn't do something soon then the weeds were going to take over. I can't believe how much the tatties have grown and most of the other stuff is doing pretty well as well.



Progress July 2005

I've even got my first tomato appearing. Hopefully there will be few more yet.



Some things work, some things...!
posted by Maureen @ 9:39 am


Thursday, July 14, 2005
The Echt Show and other things...
It was an awfy fine day on Saturday - just perfect for our annual expedition to the Echt Show. There's nowt like a good, couthy agricultural show once in a while to remind you that life does exist outside of the heaving metropolis aka Aberdeen! Because of course Aberdeen is a prime example a truly metropolitan culture capital...or perhaps not. At least Jerry Springer the Opera is coming here the week of my birthday so that's something to look forward to next year. However I digress from the business at hand.

So what sort of thing do you see at the show? Well horses are kind of high on the list.



Horses


You get the odd coo (cow) as well. Here's a prime example of the ancient Highland Cow.



Highland Coo!

And of course we can't forget about sheep - loads of them.



Black Face Ram

You can have a kids cuddling competition...



Group hug

Or you can have them all trying to squeeze in the one photo for a bit of attention...



Me..no me...no meeeeeeeeee!

And if they misbehave then they get dragged off to get sheared - or perhaps it's a slightly more extreme version of a bunch of drunk blokes and one of them gets an eyebrow shaved off once after he passes out drunk on the sofa!



Sheep Shearing

Then you have to go and find the piper...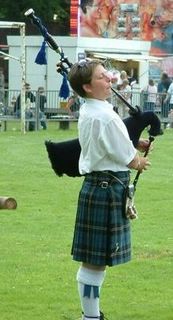 Piper

...so that you can go for a bit of a birl around the stage in a bonny kilt.



Birling

And don't forget the Young Farmer's tug o'war. I wouldn't mess with any of these guys. None of them looked overly muscley but the veins certainly stood out on their forearms once they started pulling.



Tug o'War 1

The best 2 teams were New Deer and Nairn.



Tug o'War 2

Nairn finally came out on top. Methinks it was only the gauntlet being thrown down for a season of tug o'war at all the shows.



Tug o'War 3

And of course you can't miss out on your old farmer boy in the beer tent.



Old Boy

So all the gadding about has meant that knitting progress has been a tad up and down. It was a cracking day on Monday (26C - not normal Aberdonian weather) so we puttered about on the patio. I made 2 lots of stitchmarkers for myself.



Black stitchmarkers



Terracota stitchmarkers

And although I should be cracking on with the baby shawl in readiness for Eli's return from Norway I'm having a wee bit of a break to clear out some of the UFO's currently inhabitating my knitting bags. My Cotton Braid jumper, that is being "designed" as we go, is coming along quite nicely.



Fantasy in Orange Jul 05

However to knit the sleeves I need the wire that the Turtleneck Shrug is currently on so I have to finish that first. Ain't life a bitch - nah, not really! It just means I have to knit more. Tee hee!



Teva Shrug
posted by Maureen @ 4:55 pm


Sunday, July 03, 2005
More pressies...
I'm really enjoying this Secret Pal business, especially as mine has spoilt me rather well. I'd just got back from offshore on Friday and was stopped at the end of my road waiting to get the post off the Postie when there was a lovely little parcel waiting for me. It contained the most gorgeous silk yarn from Hip Knits. Isn't it lovely? So far it's kind of yelling out Clapotis - not the most original idea perhaps but so gorgeous and would mean that the true beauty of the colours can be appreciated. I've had to keep feeling it to see just how lovely it is.



Hip Knits

So I'm almost organised to send my Secret Pal her pressies. I'm just waiting for the last of it to arrive from Amazon so I can send it all off in one box. I'm sending out of the UK so I'd rather do it all in one go. Of course when I went to get a nice selection of yarn from the Wool Shed the bargain bin there kind of shouted out to me so I ended up with 6 hanks of discontinued Rowan at £1 per hank.



Wool Shed bargains

It's the first time I've made it into the Wool Shed (her opening hours can be a bit erratic at times) but it was worth the visit. The rest of Saturday was fun too as Kev and Vicki were round so myself and Vicki spent the day knitting, chatting and watching Live 8. That was worth it purely for the Pink Floyd performance - pure belter! Still nowhere near finished the baby shawl and meeting up with the new mum on Wed night (with a few others) for a meal. Oh dear. I'll keep going - it will not beat me!
posted by Maureen @ 9:13 pm


About Me
Name: Maureen
Home:
About Me:
See my complete profile
Previous Post
Archives
1940's lacey jumper: 50%
Flicca: 60%
Ogee Lace Skirt: 10%
Wavy Scarf: 20%
Blackthorn: 55%
French Wraparound Gilet: 10%
Paton's Aran Cardi: 25%
Strawberry Hill: 15%