Monday, October 17, 2005
Ally Pally: Part One...
I went with a budget and I didn't spend anywhere near the full amount. That is just so unlike me. I decided that I would only buy stuff that I hadn't come across before and wasn't accessible on the net - plus I had to remember the minor little quibble of transportation back home!

First stop was the Magknits stand to see my Clapotis in all it's glory (photos to follow - they were taken on the old-fashioned 35mm film, got a few cameras so I do still like to use them and I didn't feel it was right to borrow Robert's more expensive digital camera all the way to London). It looked very pretty and then I dove straight into her plastic bins full of silk and bought 5 skeins.


Hip Knits Silk: Part 1



Hip Knits Silk: Part 2

Then myself and Mandy had a magpie moment and were sucked in by the beads of the Speelbound Bead Co - so pretty and so sparkly.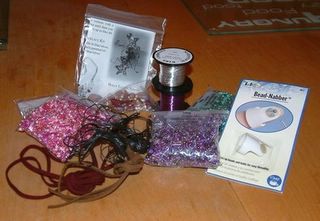 The Spellbound Bead Co.

I had decided, before I went, that I was going to get myself a skein winder however if i'd had more sense I would have bought it at the end of the day as it was a bit of a bastard to cart about the place. Classic eye removal purchase really.


The Handweavers Studio

Then I fell in love with the softest angora from a South African co-operative. It's not the most perfectly spun yarn but I like the slubbiness of it. It is so adorably soft.


Angora: Part 1

I managed to keep my hands off it until the Saturday afternoon and then I just had to start knitting with it. It's going to be a wee scarf just for me (Flora from Knitty) but I have discovered I can only knit with it for a wee while before the fibres make me sneeze too much. I need to do the freezer trick with it I think.


Angora: Part 2

This mohair mix came from the same stand.


Mohair Mix

And a couple more pattern mags don't go amiss...


Pattern Mags

Or a copy of the textile directory so I can find all sorts of new sources of nice things.


Textile Directory

It was heavenly...
posted by Maureen @ 6:46 pm


About Me
Name: Maureen
Home:
About Me:
See my complete profile
Previous Post
Archives
1940's lacey jumper: 50%
Flicca: 60%
Ogee Lace Skirt: 10%
Wavy Scarf: 20%
Blackthorn: 55%
French Wraparound Gilet: 10%
Paton's Aran Cardi: 25%
Strawberry Hill: 15%